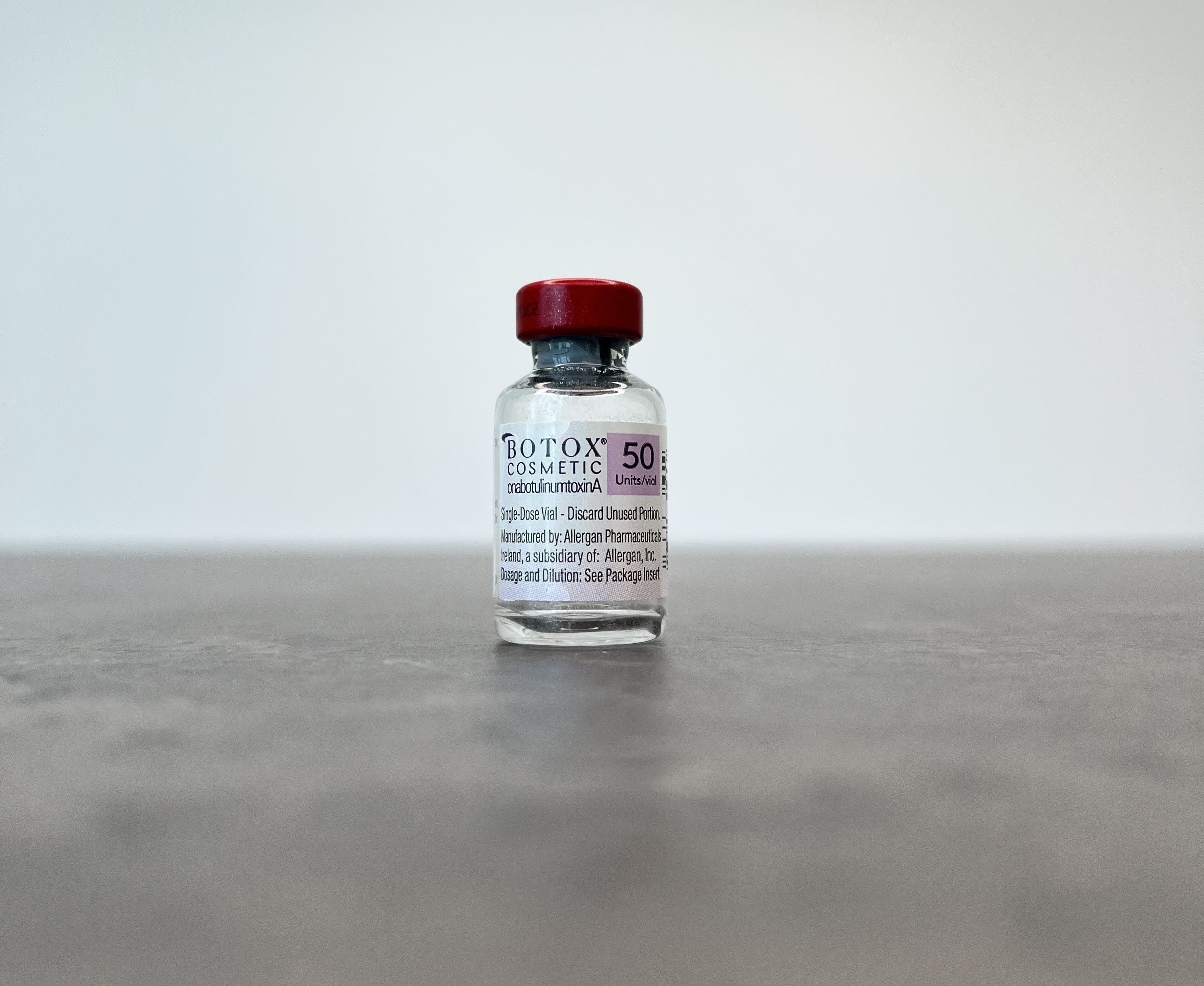 Botox
---
No counting confusing units here. All treatment areas include the recommended Botox dosage for a hassle free experience. We also acknowledge every patient is unique so we are committed to customizing the treatment to align perfectly with your desired outcome.
All treatment plans include a complimentary consultation, allowing us to address your treatment goals and ensure the best possible outcomes.
Fast track your booking experience: Connect with an expert to book your treatment by phone or chat. Support is available from 9:00 am - 7:00 pm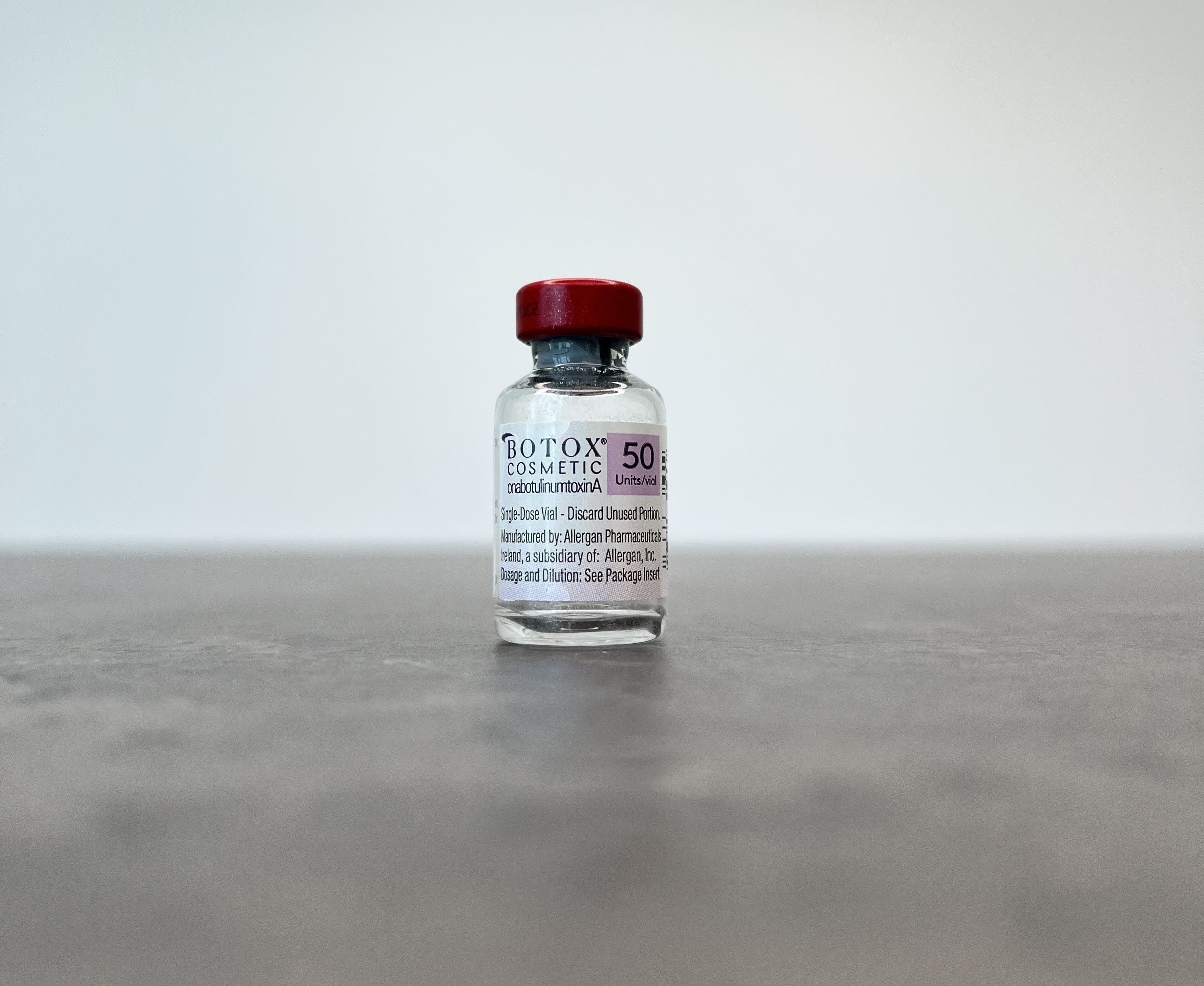 Botox
Sale price

$300.00
Regular price
(/)
Description
Wrinkle Relaxers: Mastery in Line Free Confidence
Embraced by patients across the globe, Botox stands out as the most influential and evidence-based treatment for diminishing wrinkles. At its core, Botox operates by relaxing those muscles responsible for wrinkles, which form due to repetitive facial movements and expressions. Once these muscles are at ease, it's time to bid adieu to pronounced lines, making it a stellar preventative measure.
Botox is a popular treatment that offers a multitude of advantages for wrinkles and facial sculpting, including:

Smooth Forehead Lines: Botox works to relax the muscles responsible for horizontal lines on the forehead, ensuring a smoother appearance.

Lifted Brow: By targeting specific muscles, Botox can provide a non-surgical brow lift, giving a more alert and refreshed look.

Erase Crow's Feet: Botox effectively minimizes the appearance of crow's feet around the eyes, resulting in a more youthful gaze.

Reduce Frown Lines: Often used to address the '11' lines between the eyebrows, Botox helps smooth these out, presenting a friendlier expression.

Diminish Bunny Lines: The treatment can soften the fine lines on the sides of the nose, ensuring a more refined facial appearance.

Preventative Action: Regular Botox treatments can prevent the formation of deeper lines and wrinkles by limiting muscle movement in targeted areas.

Contoured Jawline: Botox can be strategically administered to achieve a more contoured and slimmer facial appearance by relaxing specific muscles responsible for a fuller, rounder look. This can enhance facial proportions and create a more sculpted profile.
Before Treatment: Upon arrival, our clinical team will assess the areas of concern and mark the intended injection sites. We'll also provide an opportunity for you to discuss any last-minute questions. Some patients choose to apply an ice pack a couple minutes prior to treatment, though Botox injections are typically well-tolerated given the fine nature of the needles used.

During Treatment: The actual injection process is quick, often taking no more than 10-15 minutes. Our expert injector will strategically administer the Botox to the predetermined areas, ensuring precision with every injection. Some patients report a slight pinching sensation, but the experience is generally brief and manageable. Depending on individualized treatment plan, the number of injection sites and the dosage administered in each area will vary.

After Treatment: You might notice some minor redness, swelling, large bumps or bruising at the injection sites, which should fade within a few days. We advise against rubbing or massaging the treated areas, as this can cause the product to migrate. Results begin to appear within 3-7 days and can last up to 3-4 months, depending on individual factors. Always follow the specific post-treatment guidelines provided by our team to ensure the longevity and effectiveness of your results.
The magic of Botox lies in the precise dosage, strategically administered by our Botox Masters to deliver optimal results and ultimate satisfaction.

Recommended Sessions: Botox treatments are typically administered in a single session. During this session, carefully placed Botox injections will target specific facial muscles responsible for wrinkles and fine lines. However, it isn't uncommon for patients to return within a month for "touch-up" treatments, aimed at further relaxing different muscle groups to achieve their desired results.

Results Timeline: Botox is renowned for its rapid and noticeable effects. Within just 7-14 days after your treatment, you'll start to observe a significant reduction in the appearance of fine lines and wrinkles. As the treated muscles gradually relax, your skin will become smoother, and the rejuvenating effects will continue to evolve over the next several weeks. While the initial improvements are quick to appear, the full extent of your refreshed look will become increasingly apparent and can persist for several months before a follow-up treatment may be necessary to maintain your desired appearance.

Maintenance: To maintain and prolong your Botox results, consistent care is key. After your initial treatment, it is recommended to schedule regular maintenance sessions every 3 - 4 months. Consistent maintenance ensures that you continue to enjoy the long-lasting effects and prevent the reappearance of those pesky wrinkles.
After your Botox treatment, proper post-care is essential for optimal results and comfort. Here are some important post-care tips to follow:

Minimize Facial Manipulation: Avoid touching, rubbing, or massaging the treated areas for at least 24 hours. This helps prevent the spread of the Botox and ensures it stays in the intended areas.

Stay Upright: For the first few hours after treatment, remain upright and avoid lying down. This reduces the risk of the Botox spreading to unintended areas.

Avoid Strenuous Exercise: Refrain from vigorous physical activity, saunas, or hot tubs for the remainder of the day following treatment. This minimizes the chance of increased blood flow to the treated areas, which could displace the Botox.

No Alcohol or Teas: Avoid alcohol, teas and any supplements that can thin the blood, as they may increase the risk of bruising.

Be Patient: Results may take a few days to become noticeable, with full effects typically visible within two weeks. Allow the Botox time to work its magic.

Follow-up as Advised: Attend any scheduled follow-up appointments with your healthcare provider. They will assess your progress and address any questions or concerns you may have.

Maintain Regular Skincare: Continue with your regular skincare routine but avoid aggressive treatments or procedures in the treated areas.

Report Any Concerns: If you experience unexpected or severe side effects, such as difficulty breathing or swallowing, contact your healthcare provider immediately.

Remember that individual responses to Botox may vary. Your healthcare provider will provide personalized post-care instructions, so be sure to follow their guidance for the best possible outcome. If you have any questions or concerns, don't hesitate to reach out to them for assistance."
Facts
Statistics Spotlight
100%
of patients showed significant improvement in the reduction of wrinkles.
100%
satisfaction rate for non-surgical eyebrow lifts.
95%
patient retention for maintenance treatments - a testament to the positive initial experiences.
5-Star Smooth Satisfaction
Authentic Patient Reviews
8/4/2023
My experience with prp treatment was amazing it makes my skin looks smoothy and glowing . Also, it minimizes my wrinkles and reduces my acne scars.
8/3/2023
The professionals at Smooth M.D were incredibly knowledgeable and provided valuable skincare advice tailored to my skins needs.
7/31/2023
I received masseter botox again as well as an eyebrow lift and treatment to my forehead and 11's. I am excited to go back in 3 months!
7/21/2023
Thank you smooth M.D my skin really looks great! Josephine was the sweetest! She's very knowledgeable and shes super gentle.
7/20/2023
I've been coming here for micro-needling with PRP and results have been exciting. I found this place and decided to come here because of the amazing reviews.
7/12/2023
I recently received Coolsculpting and Botox at this facility. Both were great experiences. I am happy with both results and will be back!
6/8/2023
I've been coming here for years to get my botox done on my forehead, bunny lines and lip lines and i love it! Friendly atmosphere and good prices!
6/2/2023
This is my fourth time getting a Hydrafacial and I have enjoyed my experience every time. I love seeing all the gunk that comes out my pores.
Join the Smooth Society
Follow us on Instagram for daily tips and trends.
This product has no reviews yet.