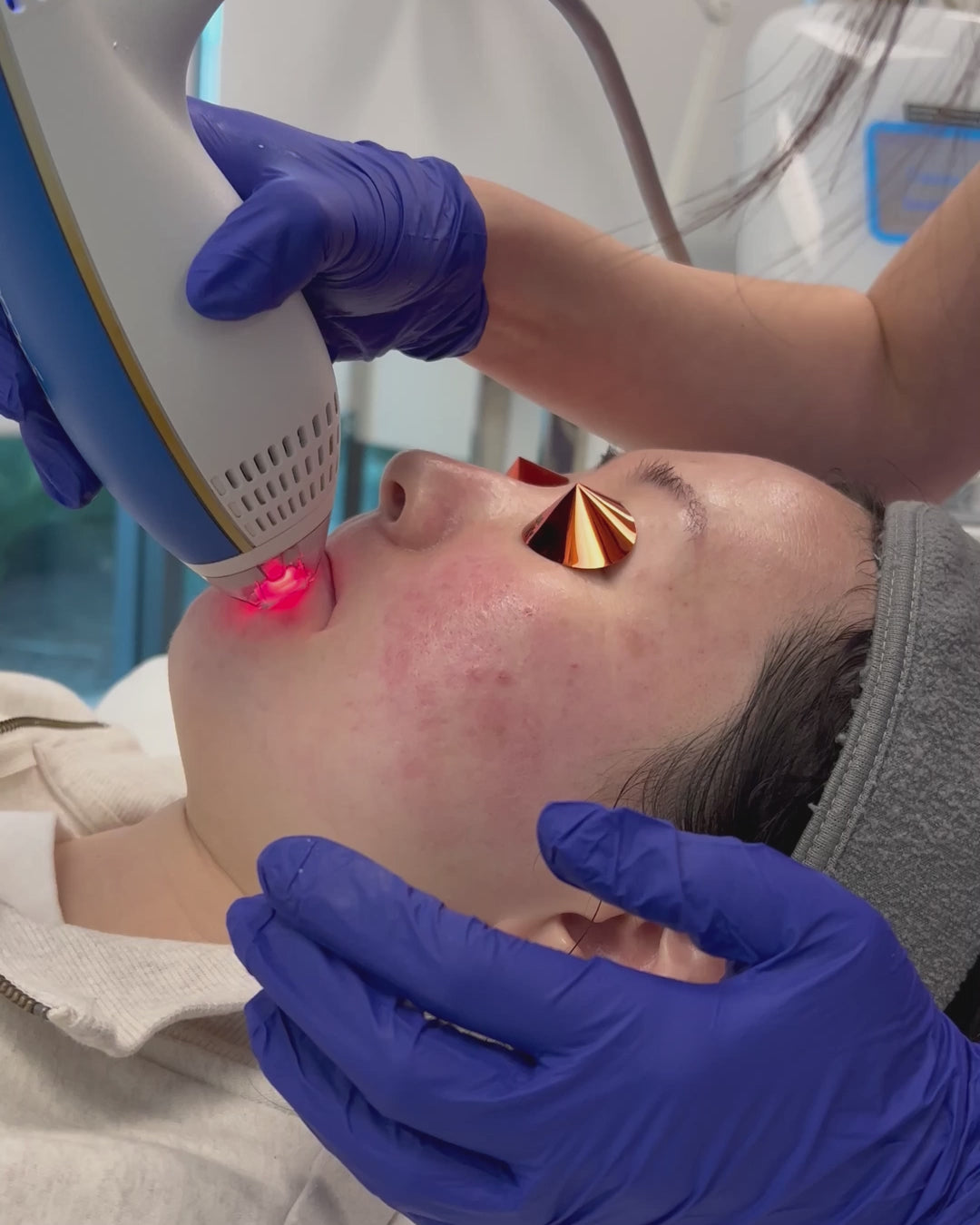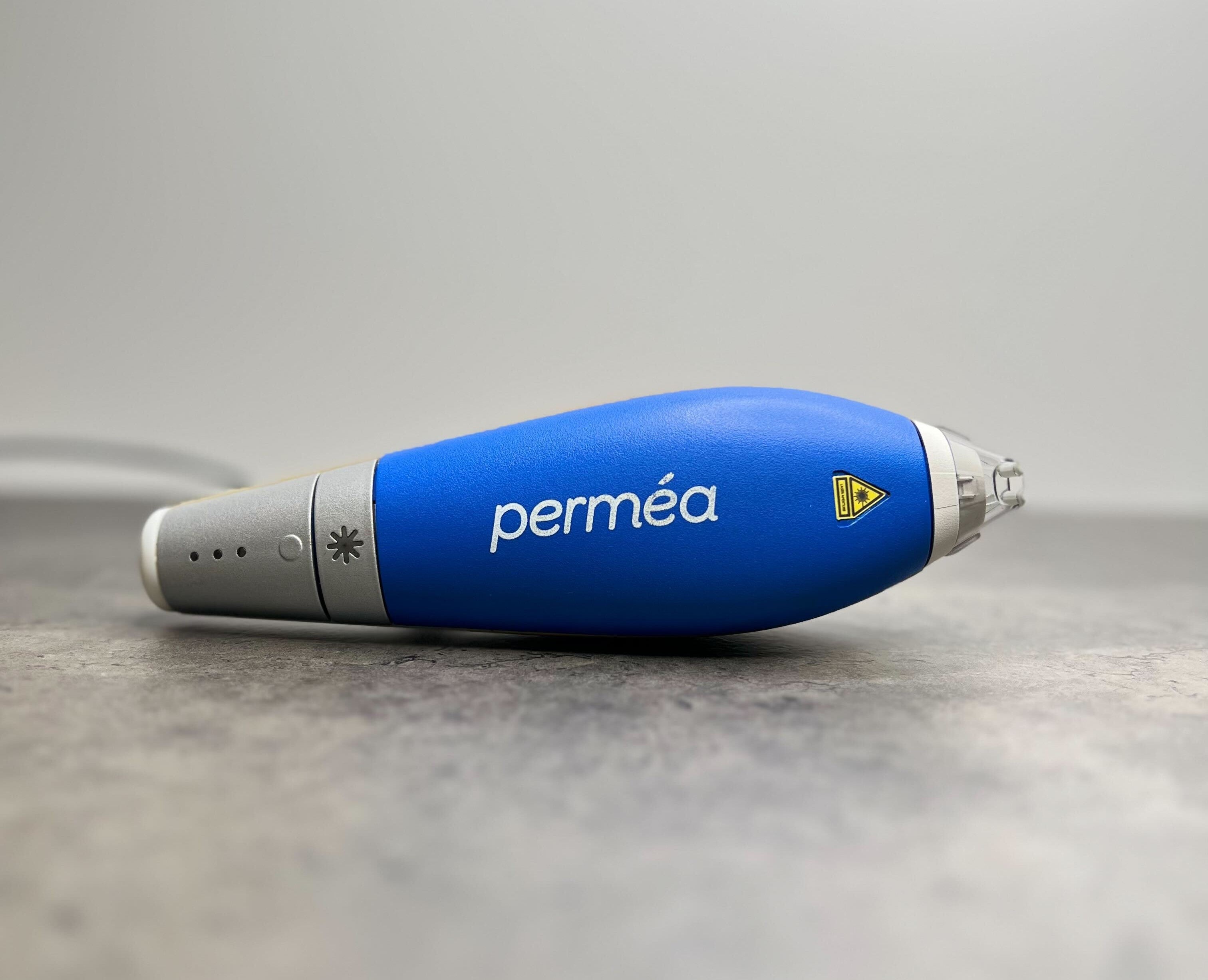 Clear + Brilliant Laser Facial
---
While both can improve pigmentation and texture, Permea is specialized more for pigmentation issues, and Original is designed to refine skin texture.
All treatment plans include a complimentary consultation, allowing us to address your treatment goals and ensure the best possible outcomes.
Fast track your booking experience: Connect with an expert to book your treatment by phone or chat. Support is available from 9:00 am - 7:00 pm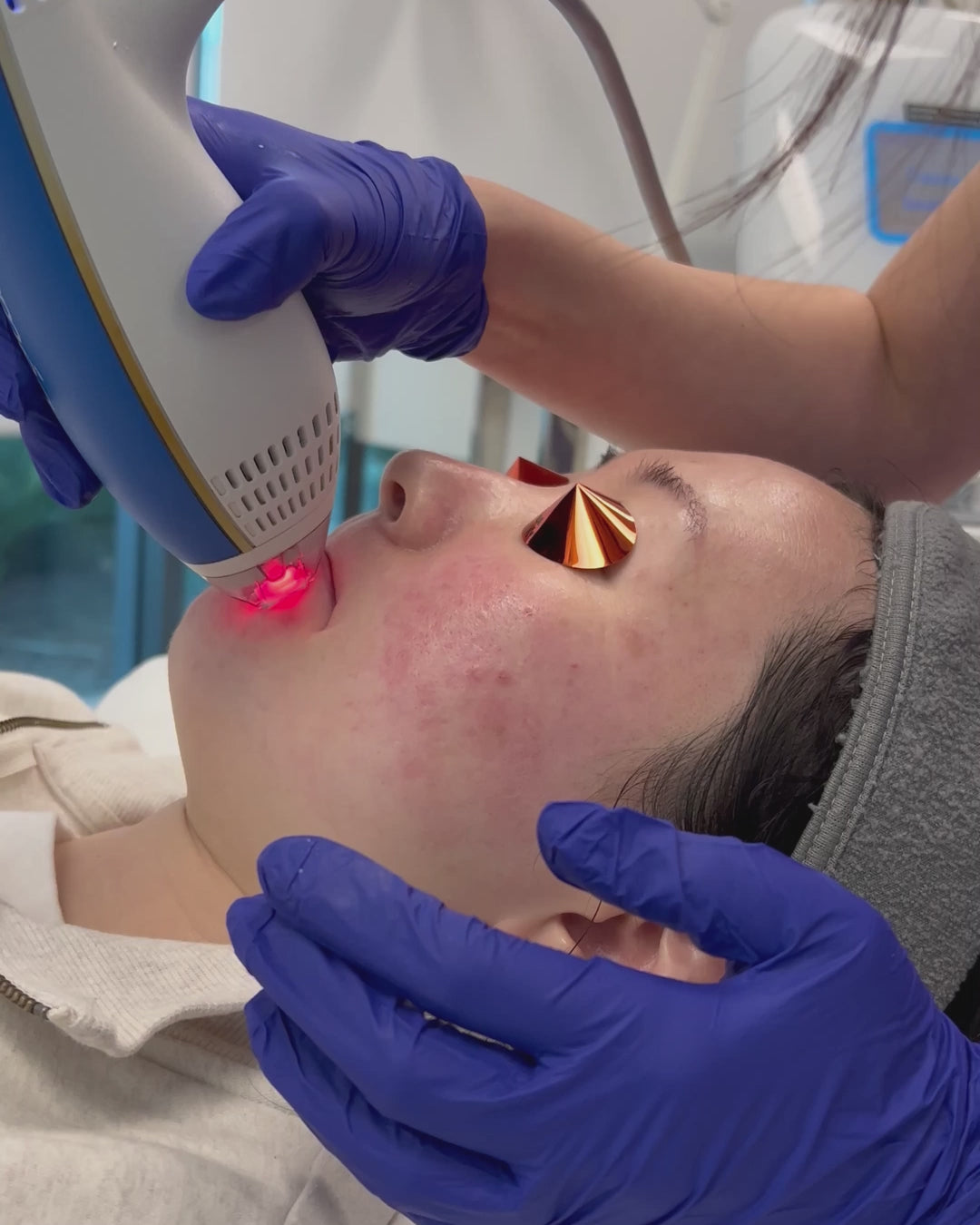 Description
The Beauty Amplifier: Clear + Brilliant for Flawless Skin
Discover your skin's best friend with Clear + Brilliant, the ultimate ally in achieving a flawless complexion. This innovative laser treatment utilizes fractional laser technology to remodel your skin and promote cell turn over. It works wonders to reduce pigmentation, resurface texture, reduce fine lines, and rejuvenate your overall appearance.
Clear + Brilliant is a versatile treatment that offers a range of benefits for the skin, including:

Reduces Dark Spots: Reduce pigmentation irregularities, age spots and sunspots, achieving a more even and uniform skin tone.

Refines Pores: Clear + Brilliant laser treatment utilizes fractional laser technology to target and improve various skin concerns, including reducing the appearance of enlarged pores.

Minimizes Fine Lines: This treatment addresses fine lines and wrinkles, promoting a smoother and more youthful appearance.

Resurfaces Texture: Clear + Brilliant improves skin texture and pore size with its innovative skin resurfacing technology, promoting a much more smoother feel.

Boosts Collagen: The laser energy creates microscopic treatment zones within the skin, stimulating collagen production and promoting cell turnover for improved skin firmness and elasticity.

Restores Youthful Glow: Clear + Brilliant rejuvenates your skin, restoring its youthful vitality and freshness
Before Treatment: The procedure begins with the application of a topical numbing cream that helps with comfort.

During Treatment: Once numbed, the treatment is performed by rolling our hand piece multiple times across the area in a cross-hatch pattern to ensure maximum coverage. You may feel a slight tingling or warmth on your skin, but it is generally well-tolerated. The entire treatment session is typically around 75 minutes, making it convenient for those with busy schedules.

After Treatment: You may experience temporary redness or mild swelling, which typically subsides within a few hours. It is important to follow post-treatment instructions provided by your healthcare professional for optimal results and minimal downtime.
Clear + Brilliant is a progressive skincare treatment that delivers noticeable improvements to your skin over time.

Recommended Sessions: While individual results may vary, 4 - 6 sessions are often recommended to achieve optimal outcomes. With each session, Clear + Brilliant helps the skin to produce new collagen and reverse the collagen that is lost as we age.

Results Timeline: Almost immediately after, a radiant glow is evident while simultaneously having a reduction in pore size. 2 to 4 weeks later, you'll observe the gradual disappearance of pigmentation and texture irregularities. The substantial collagen remodeling process takes place over the next 1-3 months, meticulously sculpting firmer and more youthful skin.

Maintenance: After completing the initial series of treatments, we recommend maintenance sessions, typically once every 6 months to sustain and enhance the results over time.
Following your Clear + Brilliant treatment, it's important to take proper care of your skin to maximize the benefits and ensure optimal healing. Here are some essential post-care tips:

1. Protect your skin: Shield your treated skin from direct sunlight and wear broad-spectrum sunscreen with a high SPF to prevent sun damage.

2. Moisturize regularly: Apply a gentle and hydrating moisturizer to keep your skin moisturized and promote healing.

3. Avoid harsh products: Refrain from using harsh skincare products, such as exfoliants or acids, for a few days after the treatment to avoid irritation.

4. Gentle cleansing: Cleanse your skin with a mild cleanser twice a day to remove impurities without causing any irritation.

5. Patience is key: It's normal to experience some mild redness or sensitivity after the treatment. Be patient, as these effects will subside within a few days.

6. Follow the recommended regimen: Your healthcare professional may provide you with specific post-care instructions. Adhere to their recommendations for the best possible results.

Remember, everyone's skin is unique, and individual experiences may vary. If you have any concerns or questions about your post-care routine, don't hesitate to reach out to your healthcare professional for guidance.
95%
average reduction in hyperpigmentation & darkspots.
98%
of patients noticed improved skin texture.
97%
of patients would recommend our Clear + Brilliant Laser Facial.
5-Star Smooth Satisfction
Authentic Patient Reviews
8/4/2023
My experience with prp treatment was amazing it makes my skin looks smoothy and glowing . Also, it minimizes my wrinkles and reduces my acne scars.
8/3/2023
The professionals at Smooth M.D were incredibly knowledgeable and provided valuable skincare advice tailored to my skins needs.
7/31/2023
I received masseter botox again as well as an eyebrow lift and treatment to my forehead and 11's. I am excited to go back in 3 months!
7/20/2023
I've been coming here for micro-needling with PRP and results have been exciting. I found this place and decided to come here because of the amazing reviews.
7/12/2023
I recently received coolsculpting and Botox at this facility. Both were great experiences. I am happy with both results and will be back!
6/8/2023
I've been coming here for years to get my botox done on my forehead, bunny lines and lip lines and i love it! Friendly atmosphere and good prices!
5/3/2023
They gave me a rundown of how it worked and how long it would take. Nurse Dami was very knowledgeable, and walked me through step-by-step.
4/21/2023
It was my first time trying this type stretch mark reduction treatment. I'm very impressed with the results, so much so I'm planning on coming back.
11/25/2022
My skin is looking better than ever, scarring has cleared up, and so much less discoloration. I highly encourage everyone to try one of their treatments.
11/6/2022
I did micro-needling here and let me tell you, I am ASTONISHED. My skin looked baby smooth, texture drastically improved and my face looked brighter!
Join the Smooth Society
Follow us on Instagram for daily tips and trends.
This product has no reviews yet.