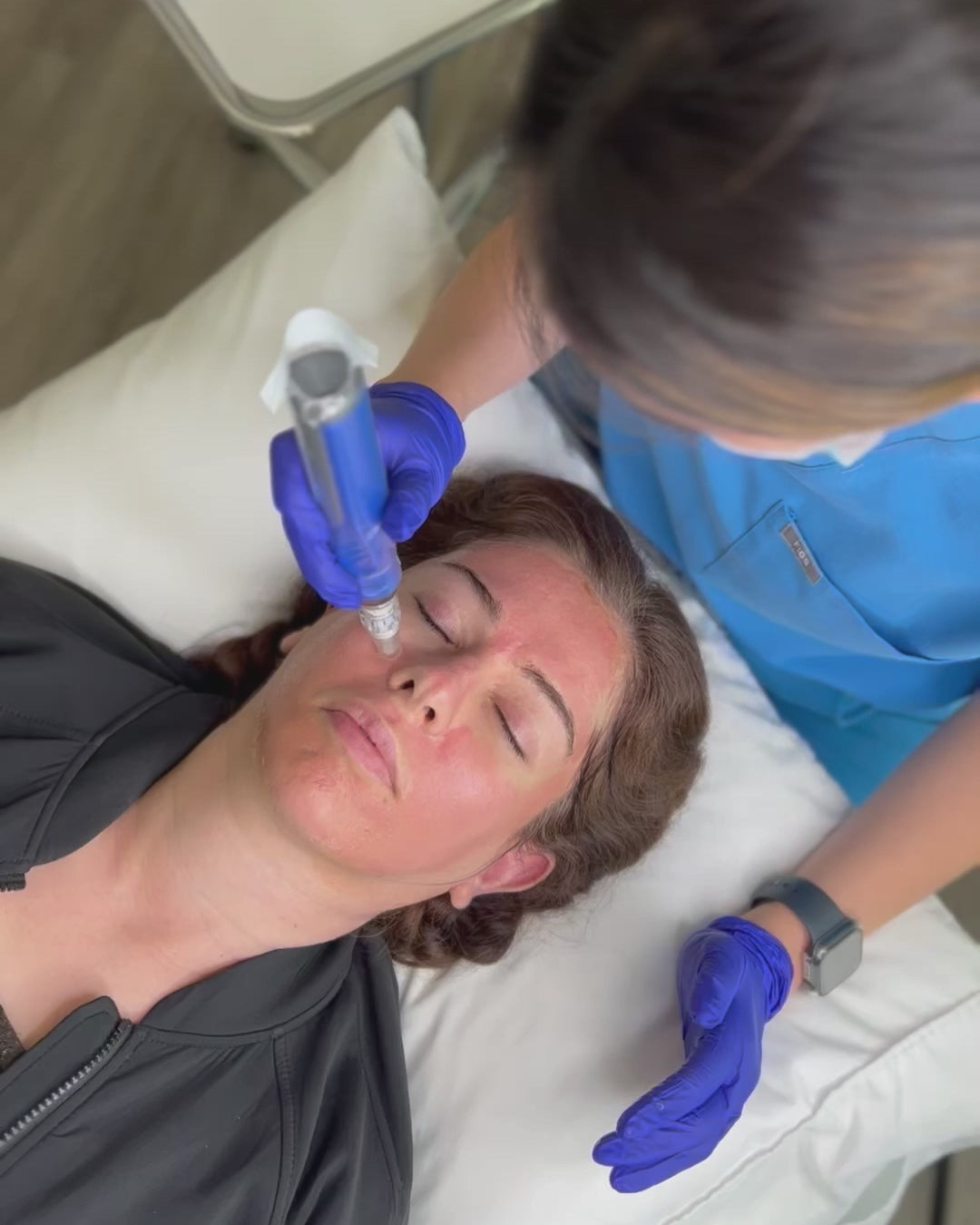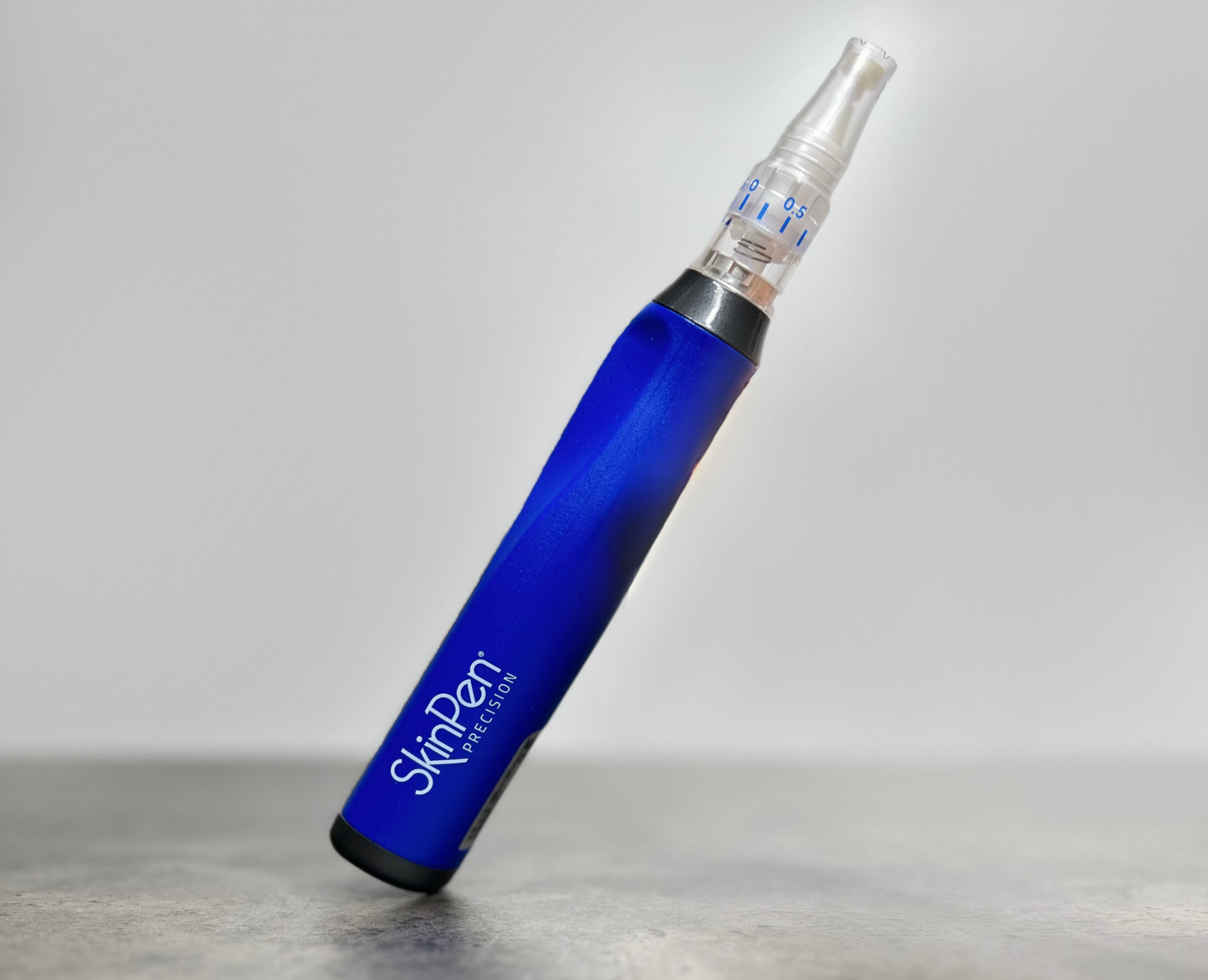 Micro-Needling
---
PRP is a concentrate derived from one's own blood and rich in growth factors. When combined with Microneedling, PRP amplifies the treatments effects.
All treatment plans include a complimentary consultation, allowing us to address your treatment goals and ensure the best possible outcomes.
Fast track your booking experience: Connect with an expert to book your treatment by phone or chat. Support is available from 9:00 am - 7:00 pm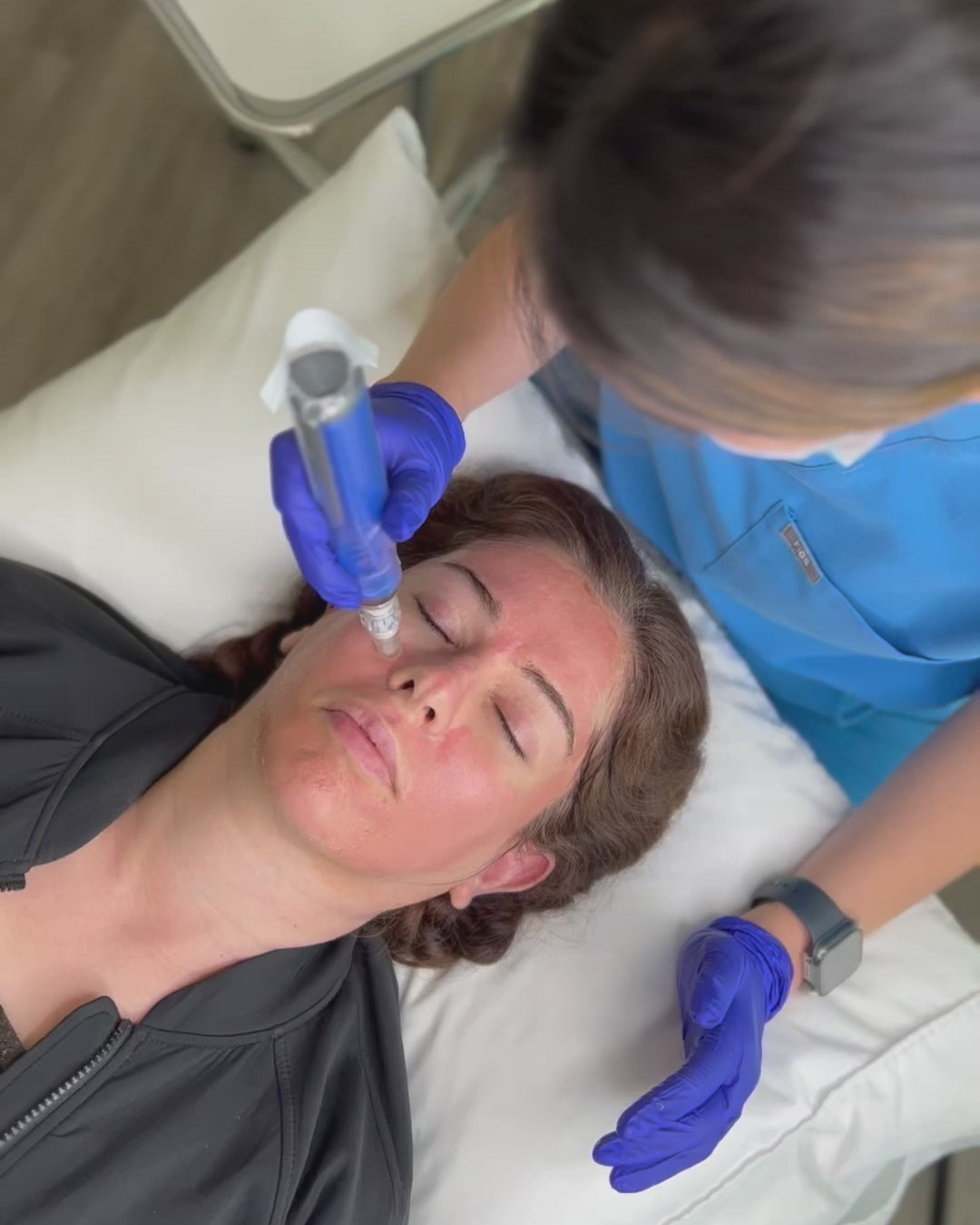 Description
The Magic of Microneedling
Experience the magic of microneedling, a minimally invasive procedure that creates microscopic channels in the skin, triggering a natural rejuvenation process and promoting the absorption of nourishing serums for a fresher, healthier-looking complexion. It is an effective solution for challenging concerns like scarring, uneven texture and neck bands.
A transformative treatment that stimulates your skin's natural healing process and targets a range of common skin concerns including:

Acne Scars: This treatment minimizes the appearance of scars, including acne scars, post surgery scars and other deep set imperfections.

Even Texture: Microneedling refines skin texture by addressing the unevenness caused by irregular skin tissue patterns, promoting a smoother and healthier feel.

Neck Lines: Microneedling stimulates collagen production, promoting improved skin elasticity and reducing fine lines, including those on the neck.

Pigmentation: Reduce the visibility of pigmentation irregularities and sunspots, achieving a more even skin tone.

Youthful Appearance: Rejuvenate your skin with Microneedling, restoring a more youthful and vibrant appearance.

Natural Glow: Microneedling enhances your skin's natural radiance, leaving you with a healthy and refreshed glow.
Before Treatment: Prior to the procedure, numbing cream will be applied to the treatment area to ensure your comfort.

During treatment: Once numbed, a specialized device with tiny needles is gently rolled over the targeted areas, creating controlled micro-injuries. You may experience a mild sensation of pricking or tingling during the treatment, but discomfort is generally very minimal.

After Treatment: Afterward, your skin may appear slightly red or flushed, similar to a sunburn. This typically subsides within a few hours to a day.
A well-structured microneedling treatment plan consists of multiple sessions spaced over several weeks apart.

Recommended Sessions: Treatment plans typically consist of 3 to 6 treatments to achieve desired results. With each session, micro needling stimulates collagen production, leading to additional improvements.

Results Timeline: Results can be seen as early as 2 weeks and will continue over time as collagen remodeling occurs.

Maintenance: Regular maintenance sessions are recommended every 3 months after you have completed your initial treatment plan.
After your microneedling session, it's crucial to provide proper post-care to promote healing and enhance the effectiveness of the treatment. Here are some essential post-care tips to follow:

1. Gentle cleansing: Use a mild, non-irritating cleanser to wash your face for the next few days following the treatment. Avoid harsh or abrasive cleansers that could further irritate the skin.

2. Moisturize regularly: Keep your skin hydrated by applying a gentle moisturizer recommended by your skincare professional. This helps soothe the skin, minimize dryness, and support the healing process.

3. Sun protection: Protect your skin from excessive sun exposure by wearing a broad-spectrum sunscreen with a high SPF. Shield your skin from direct sunlight, especially during peak hours, and use protective clothing and accessories like hats and sunglasses.

4. Avoid harsh products and procedures: Refrain from using harsh skincare products, such as exfoliants, retinoids, or acids, for at least a week following the treatment. Also, avoid other skin procedures or treatments that may cause irritation or sensitivity.

5. Avoid Heavy Makeup: For the first 24 hours post-treatment, refrain from wearing heavy makeup to let your skin breathe.

6. Patience and consistency: Results from microneedling take time to fully manifest. Be patient and consistent with your recommended treatment plan, as multiple sessions are often necessary for optimal results. Follow-up with your skincare professional to discuss your progress and any further recommendations.

By adhering to these post-care guidelines, you can support your skin's healing process, minimize potential side effects, and maximize the benefits of microneedling. Remember to consult with your skincare professional for personalized advice based on your specific needs and skin condition.
400%
increase in collagen and elastin production.
94%
of patients noticed a decrease in wrinkle size.
80%
reduction in acne scars after just 1 treatment.
5-Star Smooth Satisfction
Authentic Patient Reviews
8/4/2023
My experience with prp treatment was amazing it makes my skin looks smoothy and glowing . Also, it minimizes my wrinkles and reduces my acne scars.
8/3/2023
The professionals at Smooth M.D were incredibly knowledgeable and provided valuable skincare advice tailored to my skins needs.
7/31/2023
I received masseter botox again as well as an eyebrow lift and treatment to my forehead and 11's. I am excited to go back in 3 months!
7/20/2023
I've been coming here for micro-needling with PRP and results have been exciting. I found this place and decided to come here because of the amazing reviews.
7/12/2023
I recently received coolsculpting and Botox at this facility. Both were great experiences. I am happy with both results and will be back!
6/8/2023
I've been coming here for years to get my botox done on my forehead, bunny lines and lip lines and i love it! Friendly atmosphere and good prices!
5/3/2023
They gave me a rundown of how it worked and how long it would take. Nurse Dami was very knowledgeable, and walked me through step-by-step.
4/21/2023
It was my first time trying this type stretch mark reduction treatment. I'm very impressed with the results, so much so I'm planning on coming back.
11/25/2022
My skin is looking better than ever, scarring has cleared up, and so much less discoloration. I highly encourage everyone to try one of their treatments.
11/6/2022
I did micro-needling here and let me tell you, I am ASTONISHED. My skin looked baby smooth, texture drastically improved and my face looked brighter!
Join the Smooth Society
Follow us on Instagram for daily tips and trends.
This product has no reviews yet.